The CreativePlace podcast is back, and it's even better. You can help choose topics. You can help interview guests.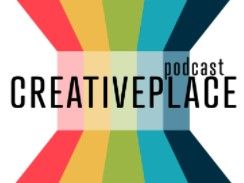 Fall 2021 shows
Guests: Michael Shannon, Mary Blanusa and Danielle De Laurentis, Northern New Jersey Community Foundation. We'll talk about how community foundations -- many of which support community development, economic development, and local arts, can be more effective catalysts and incubators for creative placemaking. The Northern New Jersey Community Foundation, in Hackensack, NJ, is a great model for this work. From September 30, 2021.
Watch the video.



Guest: Stuart Rosenfeld, Principal and Founder, Regional Technology Strategies. We'll talk about the distinct opportunities and challenges of growing cultural economies and ecosystems with Dr. Rosenfeld. He brings decades of experience in economic development research. From October 14, 2021



Guest: Katie Schaible, Monmade, Pittsburgh, PA . We'll talk about how her organization connects local artists and developers to create more interesting spaces and places. We'll also talk about how these partnerships help support local cultural ecosystems. From October 21, 2021. Watch the video.

Previous shows
How to join us in the studio

When you're in the online studio, you can ask questions of guests and mingle with them after the show (if they are available). You're welcome to join us in the studio if you're a Creative Placemaking Communities Member (at any level); a graduate of, or student or instructor in, the Certificate program; or you're invited by a CPC staff or board member.

If you are a CPC Member, log in to CPC, go to My Profile, and find the link in the Exclusive Benefits space. Certificate Community Members can find the link in the Certificate Program Center. Guests will get the link through email.


How to suggest topics for future shows
If you are a CPC Member, or are part of the Certificate Community, there are two main ways to suggest topics:
Talk about it at a monthly Member Meetup. We pay attention to what interests our Members.
Send an email to CPC President Leonardo Vazquez

More about CreativePlace
CreativePlace launched in 2019, and was created by Andrea Orlando, who also hosted. She produced 37 shows and covered a wide range of topics.
Listen to those shows.
The program was relaunched by Creative Placemaking Communities in September 2021.
about the host
Leonardo Vazquez, AICP/PP
Before he was a creative placemaker and urban planner, Leo was a newspaper reporter. As CreativePlace's lead host, he puts on his journalist's hat to ask thoughtful questions of guests.
Created with